The Life Sciences Incubator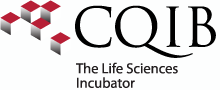 Quebec Center for Innovation in Biotechnology (CQIB)
The CQIB is a life science companies incubateur supplying laboratories, offices and a high end pool of equipment.
CQIB's greatest added value is its business mentoring service. New clients have immediate access to a team of experts and technical/commercial validation to speed up the start-up process while minimizing the risk.
Our careful screening process ensures that only viable companies are admitted to CQIB, which also makes it easier to secure funding.
CQIB offers the following programs:
Pre-incubation: a virtual place of business for young startups
Incubation in our laboratories and offices for 3 to 5 years
Soft landing of international companies
Incubation of R&D project from existing companies
Start-ups have access to all of CQIB's services. To date, over 50 companies have chosen CQIB as the place to launch their enterprise, benefiting from the support of a seasoned team and an environment conducive to business development.
Rental space and Equipment
Residents have access to fully furnished level 2 bio-safety laboratories outfitted with fume hoods, type 2 reverse osmosis purified water system, natural gas, nitrogen gas, a central vacuum system, emergency power and a sophisticated ventilation system. Security and biomedical, chemical and radioactive waste management services are included.
Resident companies have access, at no additional charge and on a shared basis, to a wide array of scientific instrumentation.
Additional equipment and services are available at the INRS Armand-Frappier Santé Biotechnologie Research Centre, accessible by underground walkway: sequencing, oligonucleotide synthesis, mass spectrometry, flow cytometry, electron microscopy, animal facility and testing services.
consulting services
The Reference in Life Sciences
After 21 years in operation as a business incubator for emerging life sciences and health technology companies, CQIB has become the reference in start-up mentoring.
We offer a wide range of consulting services for entrepreneurs (pre-incubation) and companies (incubation).
Our services are grouped into two categories:
Mentoring services: In partnership with the Economic Development Service of the City of Laval, CQIB's business mentoring program guides entrepreneurs to the best human and financial resources available.
Technical services: A start-up must also quickly organize its R&D activities and get its laboratories up and running. CQIB's technical team helps resident companies design, set up and run their labs.