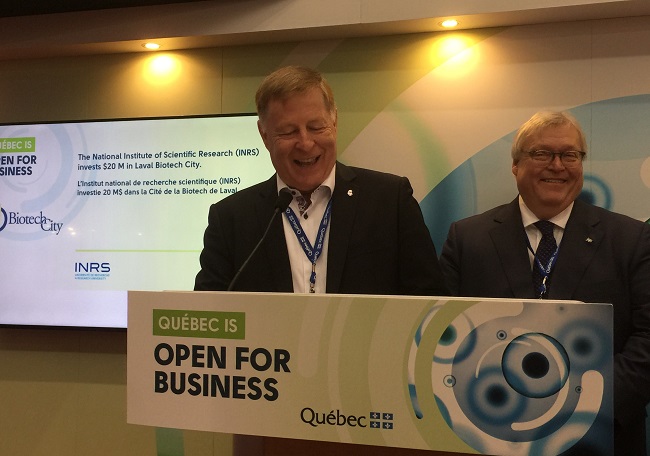 Laval mayor applauds $20 million investment in INRS
05 June 2018
Laval, June 5, 2018 — The mayor of Laval, Marc Demers, applauds the $20 million investment by the Quebec and Canadian governments in the INRS-Institut Armand-Frappier Research Centre. The major announcement was made today at a press conference at Quebec's booth at the 2018 Biotechnology Innovation Organization (BIO) International Convention, which runs June 4 to 7, 2018, in Boston.
This major investment will be used to set up a Nuclear Magnetic Resonance platform dedicated to drug discovery and to open a Biosafety Level 3 laboratory to work with pathogens. The institute also plans to open additional Biosafety 1 and 2 sections in its animal research facility to accommodate the needs of the pharmaceutical industry. Major renovations will also be made to the institute's main building.
"The INRS-Institut Armand-Frappier Research Centre is a long-time partner of the City of Laval. Its presence is a major asset for Laval and our biotech industry, creating synergy between university research and the business world. I'm very pleased that this investment will further strengthen this fruitful partnership, which has already given us the Biotech City and the CQIB life sciences incubator, two powerful drivers of Laval's economy," said Laval mayor Marc Demers.
"We are proud to continue growing in the Biotech City in Laval. This investment will allow for major research progress and better collaboration with the pharmaceutical industry," added INRS CEO Luc-Alain Giraldeau.
About the INRS
The Institut national de la recherche scientifique (INRS) is Quebec's only university exclusively dedicated to graduate and post-graduate research and training. The INRS is home to 150 professors in the fields of health, biotechnology, energy and materials, telecommunications, environment, and social sciences. Working hand-in-hand with community and industry partners, the INRS is proud to play a key role in advancing scientific knowledge and preparing future leaders of scientific, social, and technological innovation.
About the Biotech City
The Biotech City is a biotechnology and life sciences hub in the Greater Montreal area. Located in Laval, the Biotech City represents 5,000 jobs and more than 100 businesses and agencies. It is also home to the CJIB incubator and has a substantial presence of university infrastructure. For more details visit www.citebiotech.com.